Latest HelplessTeens.com Updates
Dolly Leigh Whore-a The Explorer Part 1
Helpless Teens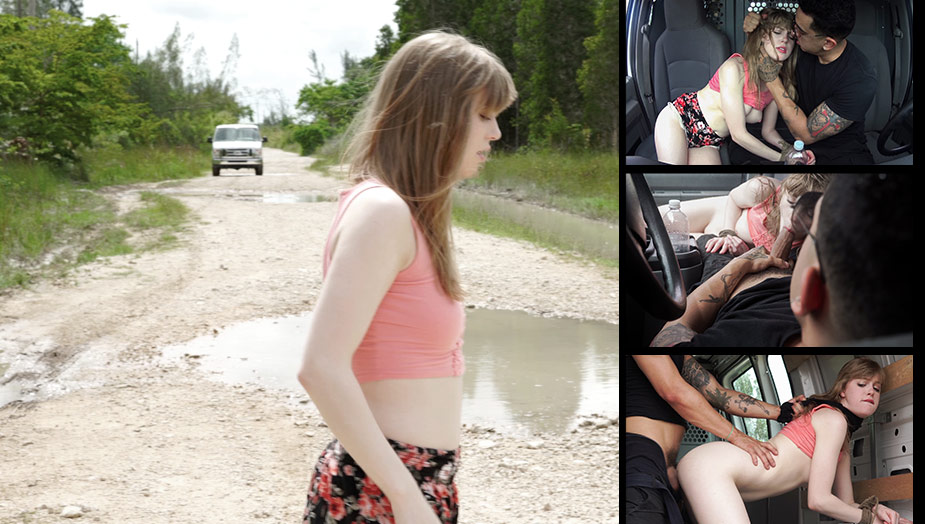 Girls can be so mean, and pretty teen Dolly Leigh finds out just how mean they can be when her own girlfriends abandon her in the country after a day of exploring. Th good news for Dolly is that Bruno just happens to be driving around in the desolate wasteland of backwater Florida in his custom-creeper windowless van, and we know what that means... hardcore teen sex, outdoor bondage, other BDSM, rough sex, deepthroat blowjobs and whatever other deviance the master of dominating teen pussy dreams up. Dolly eagerly accepts Bruno's offer of a ride to safety, but she is going to have to pay for that ride somehow. After her wrists are tied, Bruno unleashes his thick trouser snake for gorgeous Dolly to deepthroat. Dolly has a slamming body with golden blonde hair and a lovely pair of all-natural tits. After she sucks him for a while, Bruno humiliates her further by fingerblasting Dolly's beautiful, milky white, bald, wet pussy. Then he slaps the shit out of her swollen snapper and stuffs his cock in it and pounds her out doggie, missionary and finishes her reverse cowgirl style. Dolly has numerous orgasm, and she has a face that looks like a blow-up fuck doll, so that when she cums, her mouth forms a perfect 'O'. You don't want to miss that!
Madelyn Monroe Kum Kegger Part 1
Helpless Teens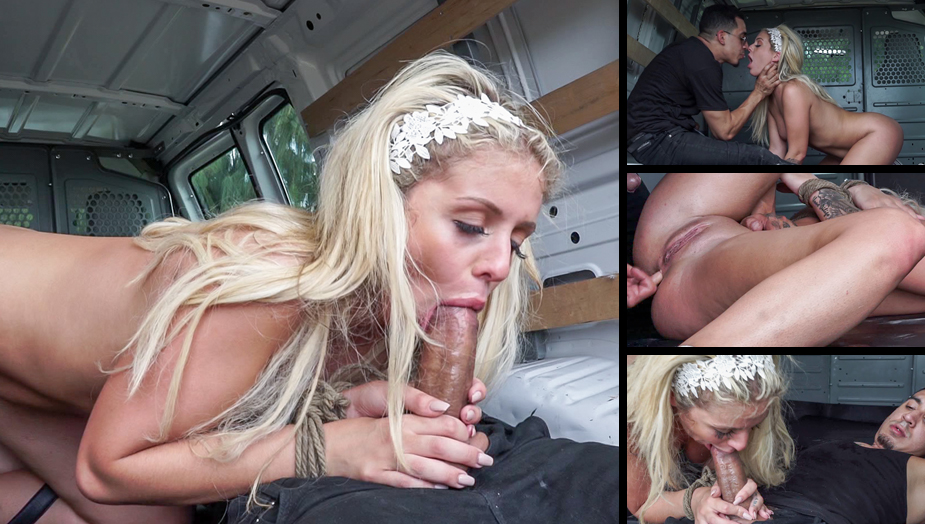 These dumb fucking teenagers and their keg parties and bonfires in the woods. It's amazing any of them live to adulthood. Madelyn Monroe is one of these silly teenage girls who could have easily ended up as another tragic statistic if it had not been for Bruno. You see, Madelyn was invited to a kegger in the woods, but ended up lost in the middle of nowhere with absolutely no chance of survival until she is rescued while hitchhiking by Bruno. He immediately takes notice of the tasty treats barely concealed in her short shorts and flimsy camisole. He tells her he will get her home safely if she does something for him. What the something is, Madelyn has no idea, but she goes along with it because she?s a dumb fucking teenager. What Bruno wants is rough sex. outdoor bondage and to totally dominate her, starting with an involuntary deepthroat blowjob. Of course, her wrists are bound with rope or it wouldn't be extreme teen sex Bruno style. Madelyn gets her pussy fingerblasted and pounded into submission by Bruno in a half dozen humiliating positions.
Joseline Kelly Lost & Pound
Helpless Teens
Dirty little extreme teen sex sluts like Joseline Kelly have this way of finding themselves in the stupidest situations, but they always somehow find a way to wriggle out of them by using one or more of their fuck holes. Today, Joseline was abandoned by her friends in the middle of nowhere on the hottest day of the year. Fortunately, the ever-helpful Bruno is prowling the desolate countryside in his windowless van and spots Joseline hitchhiking along the dirt road in her too short shorts and flimsy tanktop. Joseline begs him for a ride, and Bruno most graciously agrees to assist her... after slapping her around, re-naming her "Whore," and making her strip, so he could smack and grope her perky tits and roughly finger fuck her tiny teen pussy. Joseline's humiliation has just begun. An involuntary blowjob starts the rough sex and outdoor bondage session, and then her wrists are bound with rope and she is thrown into the cargo area of the van and pounded, ravaged, beaten and fucked until Bruno christens her face and mouth with a thick hot load of salty cum. He slaps her face a couple of more times to make sure she swallows every drop, too. Good whore. Good whore.
Sally Squirtz Legal Tender
Helpless Teens
"Every day is a great day at helplessteens.com because we meet the hottest young girls in the world and fuck the freshness out of them, but sometimes we really hit the jackpot with a truly special extreme teen sex diamond. Sally Squirtz is one of those. Finding her was like hitting the Powerball of young pussy!!! She is spectacular in every way… from her braces and ponytail to her banging little body… which J.B. gets to humiliate when he picks Sally up hitchhiking in the middle of nowhere. Sally agrees to "work something out" for a ride into town. She really conjures the lust in super tight shorts and a flimsy tank top, but says she's not "that kind of girl." Newsflash Sally: you become "that kind of girl" when your hands are tied and you are dominated into being a slave with a giant cock and rough sex. An involuntary deepthroat blowjob sets the tone for a long afternoon of public sex, and Sally struggles with JB's massive python. Dick slaps on her face and hard hand slaps to her little ass get her pussy warmed up for an epic and very painful pounding in doggie, cowgirl and missionary style that ends with her face getting spackled with a drain-clogging load of jizz that reminds her who her master is. "
Crystal Rae Cum Slut Crystal Part 1
Helpless Teens
"Life is nothing more than a series of calculated risks, and depending on how you do math, today is either Crystal Rae's worst day or Bruno's best day. Consider these facts: what are the chances of our perpetually horny hero, Bruno, happening upon a hot, 18-year-old, petite, teenage girl with fantastic tits and wearing Daisy Dukes, hitchhiking in the middle of nowhere, desperate to get back to civilization and willing to do anything to get there? A million to one? Well, it happens today. Crystal tells her savior she's lost and horny, and now she's going to have to fuck her way home. She also takes another calculated risk by telling Bruno she's known as "Cum Slut Crystal." All manner of humiliation and rough sex ensues, and Big B can't get his cock inside of her sweet, shaved pussy fast enough. After some brutal choking, tit slapping and involuntary fingerfucking, Bruno ties her hands and deepthroat facefucks her while spanking her ass at the same time. The humiliation and outdoor sex continue with hardcore teen sex in a half dozen nasty fuck positions. Can Crystal's tiny pussy take it? "
Ashley Adams Devil In A Black Dress Part 1
Helpless Teens
"This new generation of teens is even more clueless than the last three. Take Ashley here. Hotter than hell, yet this teenage sexpot finds herself stranded in some godforsaken wasteland, dressed to the nines in a sexy, tight black dress, and sitting on the side of a dirt road sweating her tits off. And what magnificent tits Ashley has! Beautifully shaped, all natural and capped with a set of perky, pink nipples that look like candy. Ashley ain't going to last long out here, but luckily, Bruno is out scavenging in the van and spots her. He offers her a ride, but insists she strip down to cool off. Ashley hesitates because she's not wearing panties, dirty slut. When Bruno asks her to open her legs so he can stare at her luscious, meaty pussy, she really gets nervous. She should. We all know what Bruno does to little teases. He turns them into sex slaves through sexual humiliation and rough sex. That's just what he does to slut Ashley, slapping her face, tying her hands with rope and forcing her to fingerbang herself. Next, he makes her give him a deepthroat blowjob before he tapes her mouth shut, and pounds her out like a chicken cutlet doggie style, missionary and cowgirl. He even fingers her asshole while fucking her doggie style to complete her submission. Great outdoor extreme teen sex only available on Helpless Teens. "
Keely Jones Helpless Teens No Free Rides
Helpless Teens
There's not much that is hotter than a sizzling Florida summer day, except perhaps a teenage girl who doesn't know how hot she is... and that's just the story with little blonde Keely Jones with her slamming, young body that was just made for fucking... rough, extreme fucking. Poor dumb Keely stole her boyfriend's car while they were fighting, and then she broke down in the middle of nowhere on the most brutally hot day of the year without a cellphone. Now, she's stuck hitchhiking, at the mercy of ANY lunatic who might happen along, but things are about to take an even more brutally hot turn than she ever could've imagined. Lucky for Keely, or perhaps NOT, a helpful stranger spots her helplessly standing in the road, sweating her sweet little tits off, and offers to give her a lift. Of course she has no money to pay him, and the nearest town is an hour away, so just how is Keely going to compensate our hero for his thoughtful gesture? Can you guess? Yes, with an involuntary blowjob, a dirty, sloppy deepthroat suck worthy of a big city whore twice Keely's age. But not before he ties her hands and slaps her around a bit first, because she's got it coming, yes she does. Next, he gives Keely the fuck of her young life in the back of the van, pounding her out to multiple orgasms both doggie and cowgirl and reverse cowgirl style. Watch her tiny, shaved pussy take that big hog. When he's had his fun, he jacks a big load into her open mouth while making her say "No Free Rides." Ah, nothing like being dominated and humiliated outdoors, huh Keely?
Michelle Martinez Swamp Head
Helpless Teens
You can always tell certain girls like rough sex, and 19 year old Michelle Martinez is exactly that kind of girl. This teen slut is down for ANYTHING… and the more hardcore the better! Not surprising, Michelle has apparently pissed off her boyfriend who smashed her phone and left her in the middle of a dangerous Florida swamp, totally stranded, desperate to get home. After hitchhiking for hours, Michelle's knight in shining armor charges in on a white horse to rescue her. Well, a white, windowless cargo van anyway, and the only thing Michelle has to do to get back to civilization is, well… you know the drill! He instructs her to show him her glorious all natural tits, and she does, but she hesitates. Next, he wants her to spit on her hand and rub her sweet teen pussy, she hesitates again. This angers our hero even more and he spits in her face to show Michelle who's the boss. In the blink of an eye, Michelle finds her hands tied with rope and her mouth stuffed with a fat cock giving him a true BDSM blowjob. He grabs her by the hair and fucks her mouth and throat fast and hard. Even though she has beautiful, thick blowjob lips and a strong tongue, his cock is so big she can't take it for long and begs for him to put it in her pussy. Next, he slams her doggie style, cowgirl, and missionary, while slapping, spanking and spitting on her the whole time. Totally hardcore humiliating public sex. Guess what? Michelle loves every second of it! Little cock slob! Extreme teen sex at its hardcore filthiest!
Goldie in Helpless Teens
Helpless Teens
Sometimes, pretty teenage girls have to learn life's lessons the hard way. Such is the case with Goldie, for she is one of those girls who is just too damn hot for her own good, and whether she means to or not, she shows off her tight teen body in her cut-off booty short shorts and barely there crop. No man could resist the temptation to ravage her. Even though Goldie has been told never to hitchhike, she has no choice when she finds herself lost and stranded in the backwater swamps of rural Florida one scorching summer day. After wandering around aimlessly for hours in the blazing sun, Goldie flags down a van she spots. Thirsty, frightened and desperate to get home, Goldie asks the seemingly friendly stranger for a ride, and he graciously agrees to help, but the kind of ride he?s offering involves Goldie getting her sex holes wrecked in the back of the dirty cargo van. For starters, Goldie is slapped into submission, bound at the wrists with rope fed the thick cock of her brutal savior. Next, he humiliates her by making her jack her shaved pussy for his amusement. After that, he fucks her doggy and reverse cowgirl style long and hard while choking off her air supply. Finally, he blasts a big load of spuzz in her whore mouth to quench her thirst, and then... well, find out if Goldie ever makes it home.
Latest HelplessTeens.com Updates