Latest HelplessTeens.com Updates
Helpless Teens Whitney Wright
Helpless Teens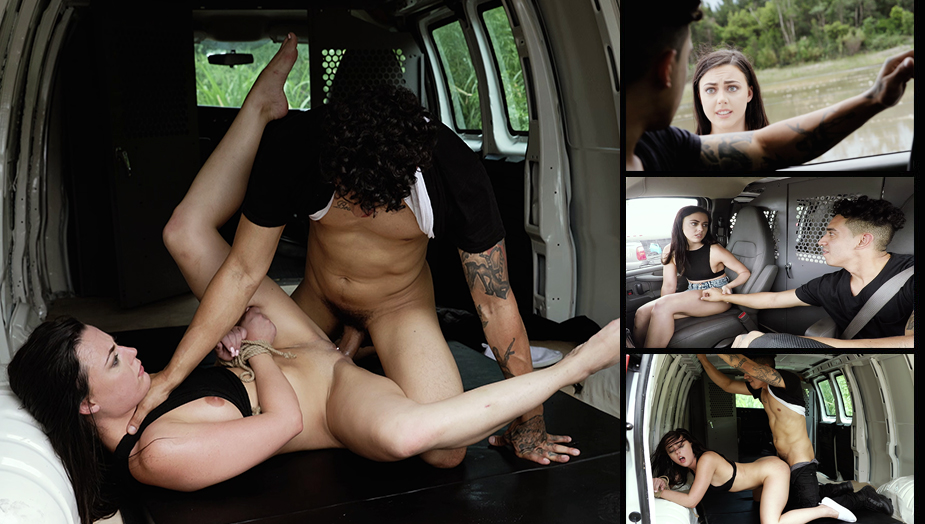 Party Girl Punished Teen party-girl Whitney Wright finds herself stranded in the middle of nowhere and hazy on the events of last night. Help arrives in the form of Bruno and his creepy white van. A little later, when Bruno asks her to pay for the ride with her smoking hot young body, she claims she's "not that kind of girl". Good girls don't dress like sluts. Bitch! With some coaxing Bruno gets this horny slut to agree to his terms and has her tied up and gagging on his thick cock in no time. This doe-eyed teen gets her pierced pussy brutally fucked hard and deep in several positions until her new master blasts her with a big cum-shot.
Helpless Teens Annaliese Snow
Helpless Teens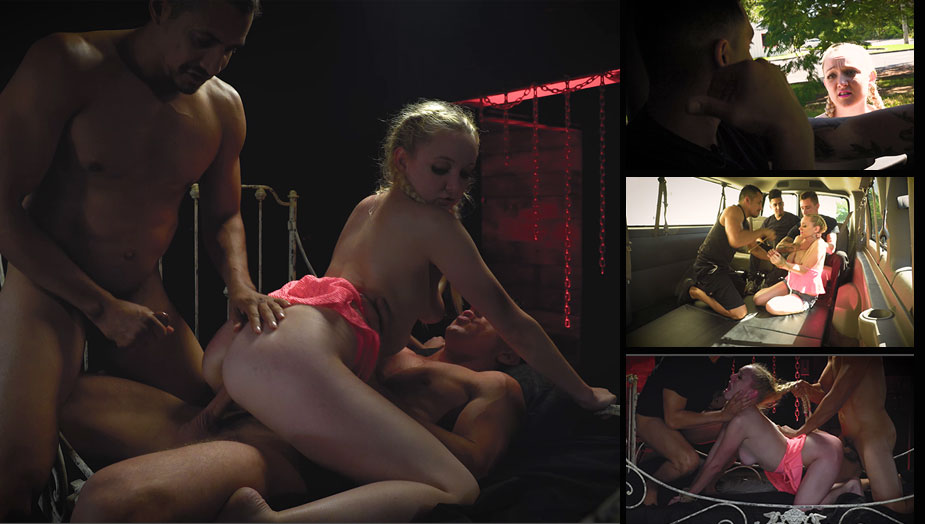 Busty Blond Sexually Broken Naive and stranded young tourist Annaliese Snow is so desperate for help that she runs up to an approaching van and begs for assistance. Charitable souls that they are, Bruno, JB and Johnny agree to give the busty blond a lift, if she's willing to 'help' them. This pig-tailed cutie has no idea what she's getting herself into! Soon she's tied up with rope and being brutally fucked by all three guys on a ratty old bed in their dungeon. No holes are spared as they DP, skull-fuck, sexually dominate and pound her pussy extremely hard. The action ends as you'd expect for a slut like her, with gooey facial cum-shots.
Helpless Teens Holly Hendrix
Helpless Teens
Desperate To Be Dominated Frightened, desperate and stranded who knows where, Holly Hendrix is overjoyed when she spots a white van approaching her. After begging her way inside the van she's driven off by Brick. When he mentions what the ride will cost she claims to be broke. Slut, Brick isn't running a charity. If you don't have cash, you'll have to pay with ass. She agrees and is quickly tied up and skull-fucked. The sexual domination and humiliation intensifies as this tiny tattooed slut gets her pussy pounded extremely hard and has her petite body manhandled like a rag-doll. Several orgasms and a lot of tears and ruined mascara later, Brick coats her with a massive facial cum-shot.
Helpless Teens Evelin Stone
Helpless Teens
Desperate For Domination Things just haven't been going Evelin Stone's way today. Her car has broken down, her phone is dead and she's stuck out in the middle of nowhere. Fortunately for this sexy young tattooed cutie, Bambino arrives in his white van and agrees to give her a lift. When she reveals that she's broke, Bambino tells her that he also accepts tight teen pussy. She's reluctant, but agrees and soon finds herself tied up, gagging on cock and getting brutally pounded into screaming submission. The extreme rough sex ends with the broken brunette getting a big messy facial cum-shot.
Helpless Teens Kiley Jay - Tiny Teen Hitchhiker
Helpless Teens
Stranded little cutie Kiley Jay is relieved when she spots a windowless white van approaching her. She waves the driver Jax over and convinces him to give her a lift into town. A bit down the road Kiley reveals that she doesn't have any cash. Fortunately for this little slut, Jax also accepts total sexual submission from tiny teens. This super petite teen is bound with rope and fed a mouthful of BBC in the van then dragged back to a dungeon and brutally fucked like a toy. Jax plasters her pretty face with a big cumshot when he's done using her.
Felicity Feline Dumped Then Dominated
Helpless Teens
Break-ups can be very difficult to deal with, especially when they come unexpectedly. It's hard to imagine why someone would dump a gorgeous tattooed girl like Felicity. She's got everything a guy could want in a girlfriend, a tight slamming body, a fat ass and barely any clothes on. Ah well, one idiot's loss is Bruno's gain! Felicity's been left with only the plaid shirt on her back and she soon learns she'll have to lose it if she wants a ride home. Bondage, extreme rough sex, and humiliation quickly follow as this bright eyed brunette gets roped into Bruno's tour of BDSM. The hardcore action starts with him binding her wrists and stuffing her mouth with his thick cock. Once well lubed he takes aim at her tight wet pussy. Felicity gets fucked extremely hard in as many positions as Bruno commands. Back at his dungeon continues to sexually dominate and disgrace her. Slapping, spanking, choking, hair pulling, name calling, tying her to his bed, this slut submits to everything! Bruno coats her tits and mouth with a cumshot when he's done with her.
Gina Valentina Cream My Way Home
Helpless Teens
Gina just wants to get home. Her car is out of gas, her phone isn't working and she's miles and miles away from home. When Brick's plain white van creeps into view she waves him over and tells him about her troubling predicament. He agrees to give her a lift to the closest gas station on his route. Who wouldn't help this innocent looking little Latina? Once they've started on their way, she reveals that she's broke, then has the nerve to asks him for gas money. This isn't a charity, slut! The only way home for this conniving cutie now is on her knees. Rope bound and gagged with cock, Gina's sexual torment begins with deepthroating and quickly escalates. Brick's relentless deep dicking sends her creaming and screaming toward multiple orgasms. Her petite young body is used like a rag-doll for a sloppy standing 69 that leaves her face coated in spit. In a dizzying flurry, Gina gets pounded hard in several positions. Once Brick's done wrecking her tiny pussy, he has suck his balls and then gives her a huge messy facial cumshot.
Freya Van Doom, Lost and Fucked
Helpless Teens
Things just don't seem to be going poor Freya's way. First she gets lost in a desolate area, then her car decides to breakdown, and now, the sweltering Florida sun is after her! No girl with an ass as fat and juicy as hers should be left stranded. Fortunately, JB and his air-conditioned white windowless van are here to help this damsel out, for a small price. She doesn't have any cash on her, but that's okay, JB accepts sloppy blow-jobs, tight teen pussy, hardcore rough sex, teen domination and humiliation, and of course, duct tape bondage! To her surprise, Freya quickly finds herself submitting to a brutal barrage of slapping, choking, spanking, skull-fucking, hair-pulling, and extreme pussy pounding. After rough fucking her way to several screaming orgasms, JB gives her what sluts like her a really want, a big load of cum to the face!
Olivia Lua Guided To Bondage
Helpless Teens
Leggy brunette Olivia Lua desperately needs help getting home. Her faulty GPS has stranded her in the woods, wasted all her gas and drained her phone. Fortunately, it's not long before Bruno arrives in his plain white van to rescue this poor helpless teen. Olivia's really grateful for the ride and wishes she had something to offer him. Don't worry, slut! After one look at her big tits and luscious legs, Bruno knows exactly how she can pay him back. With her wrists tied and her clothes discarded this sun-tanned submissive is led into a savage storm of hardcore BDSM action and extreme rough sex. Olivia gets face fucked hard, has her pierced pussy brutally pounded and even gets leashed with a seat belt in the van. At his dungeon, Bruno savagely plows and finger bangs this sexy dumb teen to multiple orgasms in several positions. When he's finished brutally punishing her tight teen pussy he showers her with a big messy facial cumshot.
Kendall Woods Tamed
Helpless Teens
Tiny black teen, Kendall, is utterly lost somewhere in the swampy backwoods of Florida. She's on foot and desperate for a ride back to civilization. Heaven only knows what dangers might be looming nearby. Thankfully, Bruno and his creeping windowless white van are here to rescue the helpless teen, from her slutty clothes! Bruno likes his girls young, dumb and full of cum. Naive little Kendall soon learns what it'll cost to get home as she's snatched up into a dizzying whirlwind of extreme rough sex and brutal BDSM domination. Tying her up, teasing her pierced nipples, slapping her face red and cramming her mouth with cock are only the start for Bruno's new little fuck-toy. In the van and later back at his dungeon, he shows the tiny teen no mercy as he punishes her tight wet pussy in several positions. Kendall's cunt just can't stop creaming on that thick dick! After he's done drilling her hard from behind and below, he coats her pretty little face with a cumshot.
Latest HelplessTeens.com Updates