Latest HelplessTeens.com Updates
Helpless Teens Sadie Pop
Helpless Teens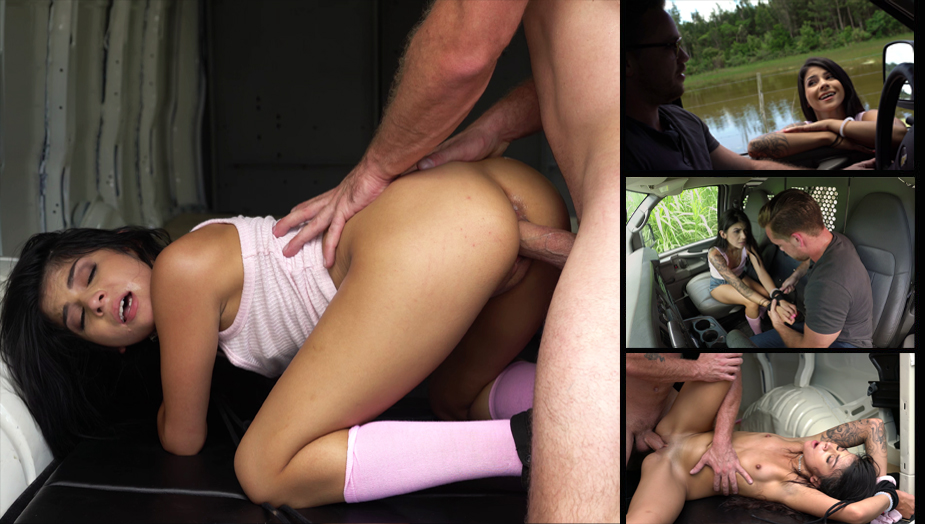 Paying With Pussy Stranded little pixie Sadie Pop isout of gas and seemingly out of luck until Kyle pulls up in his white van. A little down the road when he asks her to cover gas costs she claims she doesn't haveanyway to pay him. Silly bitch! Your tight teen pussy will do just fine! This desperate dame agrees and quickly winds up bound, begging and getting brutally fucked. Kyle sexually dominates the tiny teen for a while then blasts her with a big messy facial cum-shot.
Helpless Teens Carolina Sweets
Helpless Teens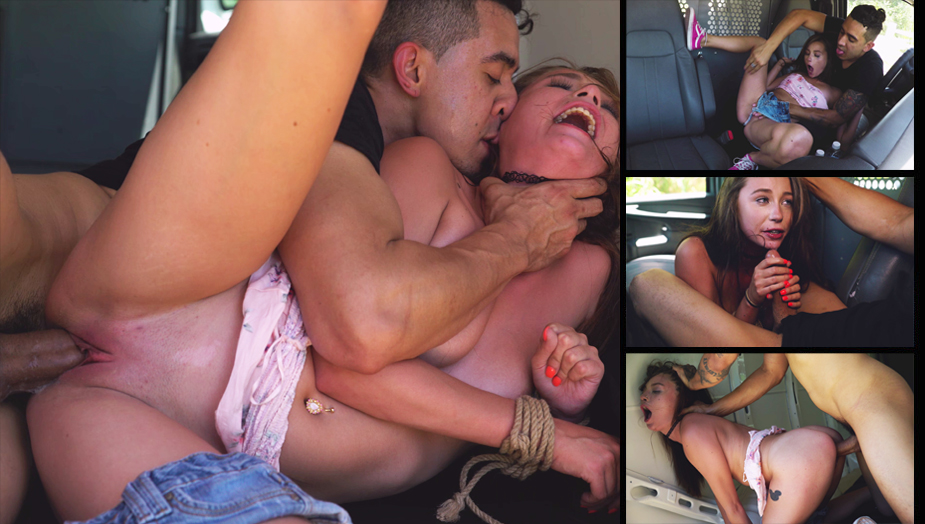 Heartbroken and Hogtied Emotional mess and slut-in-denial, Carolina Sweets has just been dumped and abandoned by her man. This raspy-voiced cute young teen thinks she's found a sympathizer when Bruno arrives in his white van offering help. Guess again slut! Bruno sees right through her bs sob story and soon has her showing her true colors. This petite teen gets tied up, fingered into squirting, fucked extremely hard and then basted with a massive facial cum-shot.
Helpless Teens Kenzie Reeves
Helpless Teens
Blond and Bound Petite blond teen Kenzie Reeves is really desperate to get home. Her jerk of an ex has stranded her in the middle of nowhere. When Brick arrives in his white van she claims she's willing to do anything for a ride. He has her prove it by tying her up, gagging her mouth with his big dick then brutally fucking her tight teen pussy into submission. His extreme sexual domination of little Kenzie ends with a huge cumshot all over her cute face.
Helpless Teens Alexa Nova
Helpless Teens
Cheater Gets Spit-roasted Pale pretty little redhead Alexa Nova could really use a ride home. She just got dumped by her boyfriend and kicked out of his car for cheating. Lucky for this little slut Bruno and his buddies are willing to help her out, if she'll be 'nice' to them. The naive nubile girl quickly gets caught up in a brutal bdsm gang bang. After tying her up and taking her to their lair, Bruno, JB, Johnny and Derrick sexually dominate and humiliate this surprising flexible and submissive slut. These brutes relentlessly punish all three of her willing holes then cover her in cum.
Helpless Teens Whitney Wright
Helpless Teens
Party Girl Punished Teen party-girl Whitney Wright finds herself stranded in the middle of nowhere and hazy on the events of last night. Help arrives in the form of Bruno and his creepy white van. A little later, when Bruno asks her to pay for the ride with her smoking hot young body, she claims she's "not that kind of girl". Good girls don't dress like sluts. Bitch! With some coaxing Bruno gets this horny slut to agree to his terms and has her tied up and gagging on his thick cock in no time. This doe-eyed teen gets her pierced pussy brutally fucked hard and deep in several positions until her new master blasts her with a big cum-shot.
Helpless Teens Annaliese Snow
Helpless Teens
Busty Blond Sexually Broken Naive and stranded young tourist Annaliese Snow is so desperate for help that she runs up to an approaching van and begs for assistance. Charitable souls that they are, Bruno, JB and Johnny agree to give the busty blond a lift, if she's willing to 'help' them. This pig-tailed cutie has no idea what she's getting herself into! Soon she's tied up with rope and being brutally fucked by all three guys on a ratty old bed in their dungeon. No holes are spared as they DP, skull-fuck, sexually dominate and pound her pussy extremely hard. The action ends as you'd expect for a slut like her, with gooey facial cum-shots.
Helpless Teens Holly Hendrix
Helpless Teens
Desperate To Be Dominated Frightened, desperate and stranded who knows where, Holly Hendrix is overjoyed when she spots a white van approaching her. After begging her way inside the van she's driven off by Brick. When he mentions what the ride will cost she claims to be broke. Slut, Brick isn't running a charity. If you don't have cash, you'll have to pay with ass. She agrees and is quickly tied up and skull-fucked. The sexual domination and humiliation intensifies as this tiny tattooed slut gets her pussy pounded extremely hard and has her petite body manhandled like a rag-doll. Several orgasms and a lot of tears and ruined mascara later, Brick coats her with a massive facial cum-shot.
Helpless Teens Evelin Stone
Helpless Teens
Desperate For Domination Things just haven't been going Evelin Stone's way today. Her car has broken down, her phone is dead and she's stuck out in the middle of nowhere. Fortunately for this sexy young tattooed cutie, Bambino arrives in his white van and agrees to give her a lift. When she reveals that she's broke, Bambino tells her that he also accepts tight teen pussy. She's reluctant, but agrees and soon finds herself tied up, gagging on cock and getting brutally pounded into screaming submission. The extreme rough sex ends with the broken brunette getting a big messy facial cum-shot.
Helpless Teens Kiley Jay - Tiny Teen Hitchhiker
Helpless Teens
Stranded little cutie Kiley Jay is relieved when she spots a windowless white van approaching her. She waves the driver Jax over and convinces him to give her a lift into town. A bit down the road Kiley reveals that she doesn't have any cash. Fortunately for this little slut, Jax also accepts total sexual submission from tiny teens. This super petite teen is bound with rope and fed a mouthful of BBC in the van then dragged back to a dungeon and brutally fucked like a toy. Jax plasters her pretty face with a big cumshot when he's done using her.
Felicity Feline Dumped Then Dominated
Helpless Teens
Break-ups can be very difficult to deal with, especially when they come unexpectedly. It's hard to imagine why someone would dump a gorgeous tattooed girl like Felicity. She's got everything a guy could want in a girlfriend, a tight slamming body, a fat ass and barely any clothes on. Ah well, one idiot's loss is Bruno's gain! Felicity's been left with only the plaid shirt on her back and she soon learns she'll have to lose it if she wants a ride home. Bondage, extreme rough sex, and humiliation quickly follow as this bright eyed brunette gets roped into Bruno's tour of BDSM. The hardcore action starts with him binding her wrists and stuffing her mouth with his thick cock. Once well lubed he takes aim at her tight wet pussy. Felicity gets fucked extremely hard in as many positions as Bruno commands. Back at his dungeon continues to sexually dominate and disgrace her. Slapping, spanking, choking, hair pulling, name calling, tying her to his bed, this slut submits to everything! Bruno coats her tits and mouth with a cumshot when he's done with her.
Latest HelplessTeens.com Updates